Oh hot damn, this is my jam!
(if you didn't just sing that, then you're wrong)
Oh yes, today, Friday, is. my. jam!
I've felt better today than I have in a couple of weeks, with pcd turning into a full depression with everything that happened last week, I told myself I was digging out of the hole & thank goodness I was able to do it in time for this weekend. I actually think the upcoming fun-ness that should happen this weekend is what helped pick me up.
Anywhooo...let's do this business!
Linking Up with
Darci
&
Whitney
today!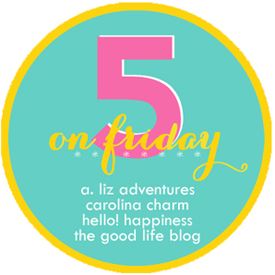 -ONE-
It's Gold Rush weekend. A festival that happens in my town every year. Shuts down the middle of town and there are booths and fun as far as the eye can see. I've loved it since as far back as memories go & I still love it. It's one of those things you always look forward to. So, I am SO ready for this weekend!
-TWO-
Doug said we could carve punkins! YAY! I don't know what I want to do to mine, but I'm excited as shit. (Remind me of this if you see me complaining on
Twitter
about it. lol) I'm thinking either another Framing Hanley pumpkin or an old school, simple face)
-THREE-
I'm finally deleting texts off of my phone in hopes that it will free up some storage space so I can receive fucking notifications again. Seriously it's ridiculous. I don't get ANY notifications anymore. And texts...EL OH EL...The number I had on my phone is
embarrassing
...let me give you a very, very small idea of the number...I already deleted one thread of message, from a number that hasn't been a working number for over a year...that thread? Had over 4,000 messages in it, with the first on in it dating back to August 2011 (when I first got the phone). Between that and another thread and some other random messaged that I haven't deleted for what ever damn reason I think I've deleted close to 10k...so far.
DON'T LOOK AT ME LIKE THAT. Anywho, if this fixes my little issue and helps my phone even a little bit, I'll be able to hold off on getting a new phone for just a while longer, which would make me and my wallet happy.
-FOUR-
I updated a couple of apps last night & MFP was one of them...apparently updating it logged me out. So I type in my info to log back in and it says "please be patient, this might take a while.." Yea, I'm still not logged it...It's still "taking a while". Shithead. Speaking of...if you're my friend on MFP,..you'll probably be big-eyed as hell this weekend, cause today I have a constant craving for moutntain dew and this weekend I am going to try my damnedest to get me some Sbarros because I have been craving and talking about it for a couple of weeks. Hey, at least I'm doing a lot of walking tomorrow & maybe Sunday. Maybe it will balance it out. ;-)
-FIVE-
AND FINALLY! So you know how some radio stations put on/sponsor holiday concerts. "Jingle Balls", "Jingle Jams" or whatever. Well there are a couple of our stations that do that also & last year, I went to my first Star 94 Jingle Jam, I blogged about it
here
. I got to see Ed Sheeran (EEK!!), Alex Clare, Grace Potter, Andy Grammer, Jason Mraz (EEP!) & Phillip Phillips(EP!), it was an aaahhhmazing show. I went for Ed & was blown away by EVERYONE that performed. SOOO,...I decided I might go again this year & I have been WAITING for the announcement of the line-up and when tickets go on sale and blah blah blah...WELL, Wednesday I happened to be listening to that station in the car when I heard them FINALLY mention it...and then who was going to be on the line-up. Let's just say my jaw dropped and I called Doug
right then
and
asked
told him I was probably gonna get tickets if that was okay with him. He said yes. Which means I actually told and asked. :) Anyway, tickets were set to go on sale today at noon & I was awake before 10a.m. and watching the clock tick by. Noon hit and I GOT MY TICKETS!
YAYY! So who am I seeing?
These guys:
These guys:
This girl:
& these guys:
OHEMGEE, I am sooo excited right now! I don't know if there will be anymore artists added to it or not, but I'm excited about just that line up, so I hope it remains the same (in other words, I hope no artists have to bow out). 90's & pre-teen Sissy is SO HAPPY right now! And I'm pretty excited about The Fray too.
Above all else. I'm seeing BSB. LIVE. FINALLY! (O_O)
And the Goo Goo Dolls!
And Avril!
Holy God.
And I'm sittin right about here (the star)
My first time (EVER) having floor seats to a concert at a big venue. So I'm excited!
:-)
Now I'm just ready for my hubby love to get home!
I'm all smiles today.
I really hope it lasts all weekend,
I hope this weekend turns out fantastic
AND I hope it turns out fantastic for you as well!!
TGIF & HAVE A GREAT WEEKEND!
Love ya, Later!
♥♥♥
Brandy