My Birthday is Thursday.
All you need to know is I'm
not
a coffee, latte, whatever drinker. I love music. I love movies. I love clothes. Extra money is always nice. And I love food. So.... ;-)
lol, I kid, I kid....
or do I....?
But...it's approaching.
Which means I have about 4 days to finish this 30 before 30 list.
Ay yi yi! I've gone blank, but don't fret, it'll be up by the end of the week! :)
(cause I know everyone is just dying to know what my goals for the next five years are)
Luckily the main thing I
have
to do this week is get my I.D. updated.
Boo...but then again yay, because I'll be able to buy booze again without people looking at me funny.
(My ID still has the under 21 thing on it....I'm 24-will be 25-)
But for the most part I have a fairly laid back week...I think.
I still don't know what I want to do, or what I want, for my birthday. & Our account still isn't looking pretty...So...just gonna play it by ear I suppose.
But, for today...I'm gonna do a Sunday Social, because it's been a hot minute since I've done it.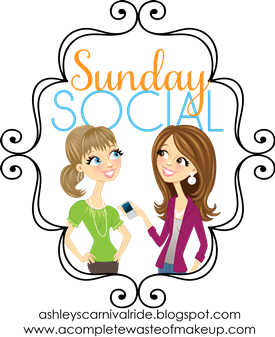 1. What is the best trip you've ever been on?
That's hard to say really because I loved everyone I've been on...but that free week at the beach a couple of years ago wasn't too shabby. ;) I could go for that again!

2. What is your best idea for a girls weekend trip?
Hmm..I'd say either Nashville, Chatt., G.burg/P.Forge or Savannah...or FL.

3. What is your best idea for a couples trip?
Ugh....lots. My absolute best idea is a full week, of just us..and it almost doesn't matter where.

4. What is the best vacation on the cheap?
Anything you can get free, obviously. Um..the best are going to see my bestest. Weekenders are always good. Somewhere that's close, you can stay a night or two, do some fun stuff & head back home.

5. What is the place you most want to visit?
Do you really want to get into this now? Let's just cut is short and say various place across the U.S. & Then
The UK
(wanna go to London so bad!). France. South America. Oz, maybe...I don't know...stay tuned for a travel wishlist post, maybe. ;-)
And that's that. Happy Sunday, folks!
Hope everyone had a great Fourth of July weekend! & Hope that anyone who had a long weekend enjoyed it!
:)
Lovinssss!
♥♥♥
Brandy