Taking a break from the relationship posts.
I've got you up to the point of us being engaged.
I hope you've enjoyed them, I've loved the comments I've gotten so far.
I'll either continue them tomorrow or Monday.
I also didn't respond to any emails yesterday or comment on any posts.
I will, promise! Don't take it personal, I love you ladies!
I've been down in the dumps since Wednesday. Bad.
That positivity from Monday faded away by Wednesday
& I've basically hated myself since then.
Wish I could say I was exaggerating.
Gotta love depression. Constant battle, that shit is.
Anyway, I'm hoping today will be tons better
because not only is it Friday...
It's one of the greatest days, e-v-e-r!
Today is my handsome Husband's 28th Birthday!
It's also his Pop's (his grandpa) Birthday!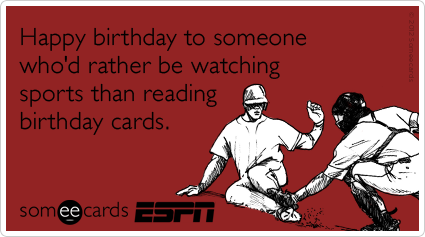 Source. Side note: this would be 100x's better if it were a Football picture.
And he took the day off!
So, aside from still having to find something to wear to his cousins wedding Saturday,
we will be hanging out & doing what he wants to do.
Which should hopefully include getting bullets for his new gun so I he can shoot it. ;-)
And then we're going out to eat some seafood with some family.
(A treat for him because I don't eat it, so it's rarely an option for date nights.)
I'm super bummed I wasn't able to get his gift this week.
But that's okay, I'll just get it in a couple of weeks.
I'll get more into the stuff that didn't go my way this week, later.
So today kicks off the busy weekend.
Birthday today. Cousin's wedding Saturday. Our 2 & 10 yr. Anniversary Sunday.
Bring. It. On!
I mayyy be MIA on here. Unless I get some down time to type something up.
But there is always Twitter (
@bnb03
) & InstaG (
BNBA
)
I hope everyone has a great Friday and weekend.
♥♥♥
Brandy